The Bridge depends on the generous donations of items from the community for it ministries to those in need.
The Clothes Closet accepts items during hours of operation.  The items accepted include clothing,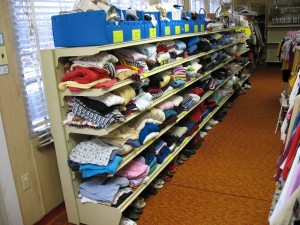 bedding, towels, small household items (dishes, silverware, pots & pans, bakeware, etc.), and children's books & toys.  For questions e-mail clothescloset@thevalleybridge.org.
The Helping Hands ministry is accepting donations of furniture including beds, dressers, tables & chairs, couches & chairs, lamps, and appliances as well as household items such as dishes, pots and pans, etc.  Items can be brought to the Helping Hands ministry during the hours open to clients on Wednesdays 9a-12n or Saturdays 9a-12n. For questions call 570-886-1057 or e-mail helpinghands@thevalleybridge.org.
The Kids at Risk ministry accepts donations of school age children's clothing such as coats, hats, gloves, boots, jeans, tops, sweat pants; hygiene items such as soap, toothpaste and toothbrushes, shampoo, washcloths & towels;  backpacks, and school supplies.  For further information, e-mail kidsatrisk@thevalleybridge.org.