The Bridge sponsors the Mobile Food Pantry in cooperation with the Food Bank of the Southern Tier every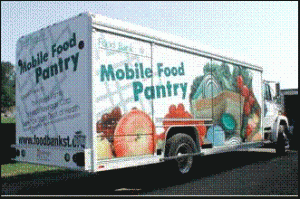 3rd Wednesday from 10a-11:00a at the North Waverly Chapel, 40 State Route 34, Waverly, NY  14892.  Participants should arrive no earlier than 9a.
Those in need of food come to the location bringing their own bags or boxes and are able to get food from a converted beverage truck after signing in and obtaining a number.
During sign-in, basic information is collected including name, city and state of residence, phone number (which is used only in the event of a recall of a food item distributed), and household numbers (number of individuals 0-17, 18-65, and over 65).  There are no eligibility requirements.
Volunteers arrive at 9a.  For more information, e-mail mobilefoodpantry@thevalleybridge.org or call 607-565-4795.